The Warthog!
I took a day off from work and having cleared some time off at home, found myself in the position to have the better part of a day to do a rove. I've been thinking about this for a while so the hard work of looking at the map and seeing that I could pretty easily do a Warthog Rove without going too crazy was already done.
A Warthog Rove is 5 POTA activations in a UTC day. I'm in a pretty park rich area, so pulling together a list of entities that I could hit wasn't a challenge. The challenge came in with which ones to pick. I decided to throw in two that I'd not yet activated so that I could score some new parks in the log. At 8:20 AM local time, I was on the road with the Chameleon vertical, IC-705, Surface Go 2, and my battery box. Just enough gear to get it done.
Side note: I took along my little TP-Link N300 Wireless Portable Nano Travel Router(TL-WR802N) that I mentioned in a prior post. I plugged it into a battery bank that I use for charging my phone when I'm traveling. With it plugged in and talking to my iPhone, it was promptly forgotten and ran like that all day. It didn't drag down the battery bank at all. This is hardly a scientific measurement, but practically this little widget draws very little current which isn't much of a surprise given what's likely inside of it. It was an outstanding performance from a simple and inexpensive piece of gear. Having a network connection available was handy and kept things moving. In an activity like this run, it was solid.
Wingfoot Lake State Park
The first park on the agenda was Wingfoot Lake State Park. This was a must as it's one that eluded me early in my POTA career. I went out there twice when I was first learning my IC-705 and how to do portable operations. I didn't clock any contacts, so it wasn't like I had an outstanding mark on my POTA stats. It was just something that bugged me. A lot. So I started my day there. In some sense, I figured if I knocked that one out there was no way the day could be a failure since I'd have a new park in the log.
I fired up my rig and went to jump on 15m so I could hopefully make contact with an online buddy on FT8. Nothing. Not a thing. I could hear stations, but they couldn't seem to hear me. PSK Reporter had nothing for me. I was starting to panic. I pushed some buttons and kicked over to 20m. I had a contact in seconds.
Um. What?
Later, when I got home, I realized that I'd had the modulation source set to mic instead of WLAN when data was selected. I have no idea how that got set as that's something that has bitten me in the past so I set it and forget it. When I kicked wfview into action and jumped to 20m, the software changed things up and it worked. I didn't really think about it much. I was rattled and conscious of the clock, so I kept going on 20m for most of the day. Conditions were good, so why not? After I hit my 10 contacts, I went to pull out my paddles and grab a couple of CW contacts. I was excited to see how that would go.
But… My paddles weren't there! I knew that I'd packed them, but they were nowhere to be found. I decided that it would be an all digital kind of day. No worries! I was still at the park. There was a lot of fun to be had and I had one park in the log. It's very hard to be disapointed when there is perfect weather, a day outside, and radio.
Here's what the activation looked like on the QSOMap:
Wingfoot State Wildlife Area
The next entity was, not surprisingly, Wingfoot State Wildlife Area which is not even a quarter of a mile down the road. I don't believe that the state park is inside of the wildlife area (there are no maps or Ohio DNR information to validate that it is), so I made a separate activation of it. Sadly, the only real place to do the activation was at the boat ramp from inside of the Jeep. This is, quite honestly, my least favorite way to operate.
As you can see, it's pretty cramped. I sit in the passenger's seat so I can write and because I wasn't planning on this, I put the tablet on the driver's seat. Again, not the best setup, but it worked. I managed to pull off 12 FT8 contacts very quickly. That was nice given that the setup was awkward. There was no one around and it was so very quiet. It was a good activation. I could have taken more time and setup closer to the water on a pad or blanket if I'd had more time or this was the only park of the day. But it wasn't!
Here's what the activation looked like on the QSOMap:
Interlude
With two entities so close together, it was a bit of a drive to my next one. I've not talked about this much on this blog, but in 2020, my family and I moved back to my hometown in Ohio. I'd been wandering the earth since I was 18. I've lived in 7 states and been some places. Going home, at this point in time, made good sense. Part of that means driving on back roads and having memories wash over me. On the road out toward Mantua where the next park was, I drove past the road where my Granny's house stands. My grandfather built that house when my mom was young. My Granny passed away a while back and I miss her. A lot. She was the only grandparent I had for most of my life. Honestly? She was more than enough. I got a little misty passing that road. It was nice to be outside and able to think about things like that with a clear head. It's important to enjoy the memories.
Marsh Wetlands State Nature Preserve
I had never been to the Marsh Wetlands State Nature Preserve. It sits by the Cuyahoga River and the Buckeye Trail runs through it.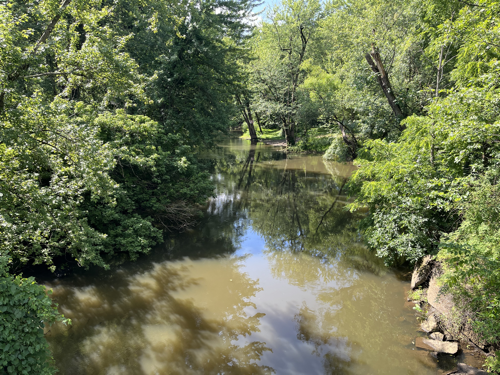 Not knowing anything about the park, I was afraid that I'd have to work from the Jeep again, but instead, I decided to walk up the trail for a bit. Not too far from the parking lot, across the bridge, there were some large stone slabs covered in thick moss. Good enough! I put up the antenna and grabbed a seat.
I was far closer to the trail than I would have liked to be and I was pretty sure that the woman walking by was going to contact an authority, but…no one showed up to ask questions. The activation was fast. 12 contacts and out!
Here's what the activation looked like on the QSOMap:
Tinker's Creek State Park
The next park was one that I know fairly well. Tinker's Creek State Park is a nice place to sit by a pond and relax at a picnic table. I have a table that I enjoy because it's close to the water and clear of the geese that like get in the faces of park visitors. I don't take nonsense from big birds, but I also don't pick fights with them. I settled in at the table and got to it.
It was another quick 12 FT8 contacts on 20m and out. It would have been a great time to settle in for lunch. Naturally, I didn't take any food along. Because I'm not all that bright.
Here's what the activation looked like on the QSOMap:
Cuyahoga Valley National Park
To round out the day, I went home. And by home, I of course mean Cuyahoga Valley National Park. I settled in at The Ledges at my picnic table of choice. Being a Friday afternoon, it was quiet. The breeze was good. I fired up my gear and got to it.
A side trip? Sure!
I have a Kelty backpack. It's been in a million pictures on my blog. I've taken it all over the country and it's been on many adventures with me. I know all of the pockets and places to hide gear. As I was unpacking at CVNP, I felt something at the bottom of the outer compartment in a hidden pocket that I'd not know was there (after over 20 years with this bag…what?). What was that lump? My paddles!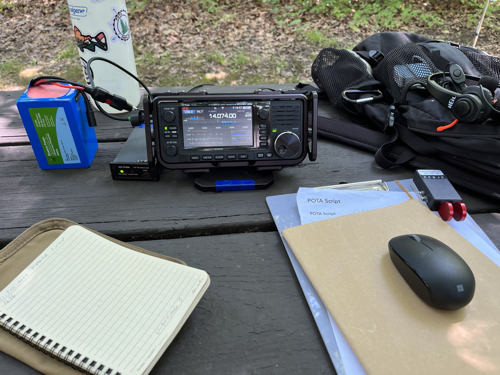 After knocking out 11 FT8 contacts, I plugged in my paddles. Now, to do this, I had to unplug the controller cable from the tuner because I only had one 1/8" cable on me. Why? I couldn't find my paddles so I left the organizer with my extra cables back at the Jeep. What a mess!
I got tuned up on 15m and moved the cable to my paddles. The fact that the mAT-705 just holds its position is a wonderful thing. I don't praise this little box nearly enough.
Now, I only got 3 contacts on CW. But I should say, I got 3 contacts on CW!!! And I felt comfortable doing it! I sat and called CQ for about 5 or so minutes after my third contact and didn't hear anything back. I looked at my watch and, honestly, it was time to close it out.
Here's what the activation looked like on the QSOMap:
It was a great day out. 5 parks and 5 activations. The Warthog Rover award was in the bag.
What did I learn?
I need to double check my gear and let my computer do the things that it's good at without me trying to help.
Make sure that my key is someplace obvious if I'm going to get serious about working in CW QSOs with each activation.
Driving from park to park is boring. In fact, the next time I try a Warthog, I want to do it on my bike. Driving around and even having the option of working from the Jeep is not fun and everything about radio adventures should be fun. Yes, the map is open and I'm trying to plot out bike-friendly routes between parks right now.
Taking the big battery box was a good idea. The Surface needed some extra juice and I was able to top it off (nearly) between parks. That's a useful piece of gear.
Having a network connection to the Surface so I can spot myself and grab bits and pieces of data instead of messing with my phone is nice in the field on a run like this where time is a bit more precious.
My setup is pretty streamlined. Times for getting on the air and getting back to the Jeep were on the order of 5 minutes. That's pretty good!
Activities like these really add a level of enjoyment to POTA. Once again, it's an event that isn't a contest and doesn't impact anyone. It's just fun. Looking at the other rover awards, well, those seem like a lot more work. Besides, The Warthog is the best animal on the list.
This was a great way to hit the last bit of July, but he summer isn't over yet! There's more outdoor radio fun to come!