Making My Own Problems
On an average spring to fall weekend in NE Ohio what I want to do is get on my bike, ride to the park, and get on the air. I've done that for about a year now and it's been very, very rewarding. Mixing hobbies is great! More people should try it. But I do wind up creating problems for myself and now it's time to look at the one that really gets me:
I carry too much stuff.
I have widgets for widgets. And a lot of it is due to the fact that I carry around devices that need power. If I forget to charge something, I don't want to have to quit, especially when it's usually a question of sharing the battery that's already running my rig with something like the ATU for a few minutes. Dumb stuff, right? A better Eagle Scout would simply Be Prepared and know that stuff was charged. It's time to be That Better Prepared Operator.
With this in mind, I did a little inventory and found that I was carrying around a lot of backup gear that I could probably ditch for these POTA-Cycle trips.
List Making Time
Most of my activation are on the IC-705. Most use a digital mode. So what do I really need to take along?
IC-705
IC-705 hand mic
mAT-705 plus
Coax for ATU
Control cable for ATU
Power cable for IC-705
Battery 12v 3Ah
Surface Go 2
Notebook w/ pencil
Antenna
Coax for antenna
(A key! Very soon! Any minute now! CW just ahead!)
All but the antenna can be kept neatly in my Maxpedition Tactical Waterbottle Holder Thing Case. So why do I cart around all of the other gear? Probably because "There was this one time that…" which is a great reason to take things along when we drag the camper somewhere, but probably not for cycling or backpacking. This isn't an expedition. This is the National Park up the road.
Paring It Down
So this is what the kit is going to look like from here on out.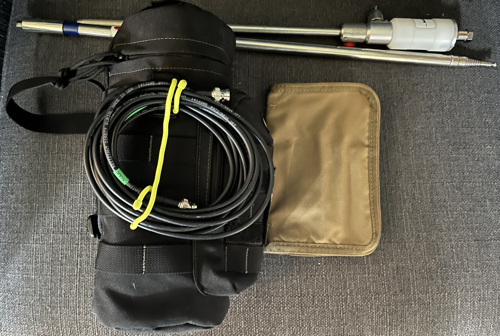 When I go to the park on my bike, I usually take the Chameleon vertical pictured above. It's quick to setup and tear down. It performs really well. It pairs really well with the IC-705 and all the things that I might do on an activation.
When I take the X6100, I tend to take along my end-fed or random wire antenna. I really don't know why, but it's probably because that's my light-weight all-mode rig. Though now that I have a (tr)uSDX in the mix – more on that later – my lightweight solution just got a little lighter. I have big ideas!
Hopefully this refactoring makes me lighter on the bike and less likely to forget critical items. Maybe we'll find out for sure this weekend!