It was a big week for me with a milestone birthday and all, so I took a couple of days off that led to a four day weekend. I activated Cuyahoga Valley National Park – K-0020 on the 17th and just knew that with three more days in the weekend, getting one a day was a must.
The weather turned quite cold starting on Friday, so it made sense to operate from inside of the Jeep. This isn't my favorite setup. It feels confining. But keeping the wind off is the key to being outside this time of year. The Jeep does that well.
On the 18th, I put the Chameleon whip up on the Jeep mount as I'd done at Pilot Mountain State Park – K-2750 in NC. It worked quite well on FT8.
The Propagation Gods gave me the birthday gift of a park to park contact with the UK. I was able to hit 2E0HPI out at G-0592 Teesmouth & Cleveland Coast SPA – Hartlepool Foreshore & Wetlands Site of Significant Scientific Interest. It was a rush to see that contact go through! I also grabbed Brazil!
The thing about the parks in late November is that they do tend to be empty. On Saturday and Sunday there were more people there – definitely dressed for the hiking in the weather – but nowhere near the numbers I usually see.
Here's the QSO Map for 18-Nov-2022:
On Saturday and Sunday, I took a slightly different approach. I pulled into the parking lot at the Ledges area of the park and put the Chameleon telescoping whip in again with the spike this time. I threw out some radials as well and it seemed to tune up very nicely.
The highlight for the 19-Nov activation was getting a contact with EA5D in Spain. I also managed to snag Oregon and Arizona in there as well. It was a good day for FT8.
Here's the QSO Map for 19-Nov-2022:
Sunday was slow. I got out on the air and managed hit a lot on the west coast of the USA. But getting past 10 contacts definitely took longer than it normally does. Later, I remembered that there was the SSB SS contest going on and that might have been occupying a lot of Hunters. The temperatures were hitting the low 20sF, so I grabbed about 18 contacts and headed out.
Here's the QSO Map for 20-Nov-2022: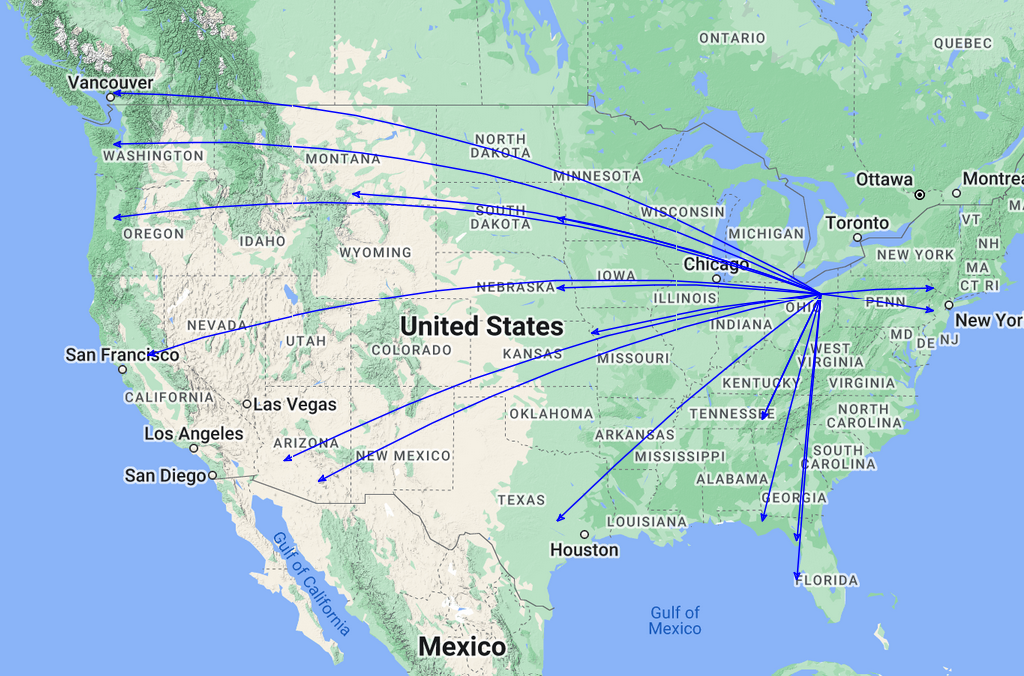 That makes for 19 activations of K-0020. One more to go. If all goes well, I can sneak in an activation over the holiday weekend. That will knock out the Oasis Activator award for my personal favorite park. I'm sure I can chase the Kilo for that park, but we'll do that when I can bike there more. The next big adventure / paper chasing exercise will be The Rover Warthog (5 parks in one day). I have big plans for that one.