Before I left for NC, I spent some time on the POTA site looking for parks close to my hotel. On the drive down, Pilot Mountain was something I passed along the way. It was really pretty to see from the road.
There were signs for a State Park and with a view like that it, it had to be an entity for activation. And it is! Pilot Mountain State Park – K-2750
It was about 90 minutes out from my hotel, so on the drive home, I made a stop.
At 8 AM on a Thursday there is no one at the park but the staff. The gift shop isn't open (but restrooms are, thank goodness!) and the gates leading up to the peak are wide open. On the weekends, one can only get there by hiking or taking a shuttle. I really wish I'd had time for a hike. It was simply beautiful. At the top, I was quite alone.
Before leaving for the trip, I said out loud, "I need to toss my jacket in the trunk in case it's cold on the drive home." Then, I proceeded to leave my jacket in the closet and drive to NC. At the top of the mountain, it was 40F and windy. The sky was perfectly clear and there was a fantastic place to set up at a picnic table a short distance from the overlook. I wanted to work from that position, but the wind was a bit too much for me, my t-shirt, and my hoodie. So I set up in the Jeep.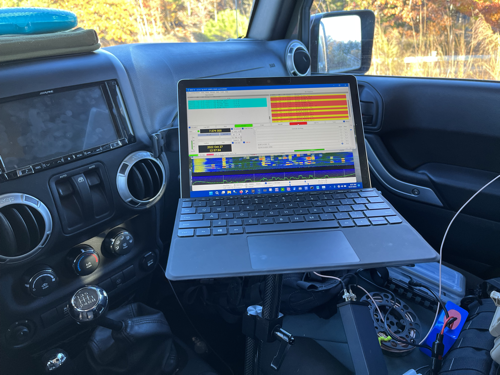 I don't love working from inside of the Jeep, but I did get to experiment a bit. I have the Chameleon telescoping whip. I used that this time on the Jeep mount and have decided that for Jeep activations, that will be my new GoTo antenna. The telescoping nature of it allows for deployment while it is attached to the Hybrid Micro meaning that it doesn't have to be at full size to be attached. This sounds dumb, but in high wind or cold, it would be nice not to have to wield a giant, fully deployed antenna and get it screwed into the Micro. And the performance was good enough for Jeep FT8. I'll play with it more through the winter, I'm sure.
Given that this was the return trip and I wanted it to go quickly, I slammed 11 contacts in about 20 minutes and was on my way. I would have loved to have spent much more time at that park and maybe we'll get down that way again.
Here's what it looks like on the map.