Since we got a camper, we started spending time with Hipcamp. It's a place where you can find private campgrounds. In essence, someone has a chunk of land and they set it up for camping and rent it out through this service. Kinda like Airbnb for camping.
Using that service, we found a nice farm about 90 minutes away where we could sneak out to throw up the camper and spend a few nights. Naturally, I took along the radio.
I wanted to try a few different things, and for the most part, my experiments were successful.
The first setup was to put a mast on the cargo rack of the camper. I thought that might give me enough height to be a little more interesting with my end-fed. I wouldn't have been able to deploy the end-fed into a tree where we were. The extra height given by strapping the mast to the cargo rack wasn't worth it. But, I do think that it could be useful still. My plan for the next outing is to put some capped PVC on the cargo rack so that I can simply slide the mast in and go. Using hose clamps and having to do so in a rather precarious position wasn't a winner for me.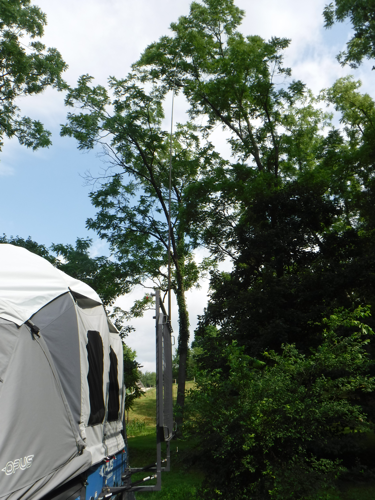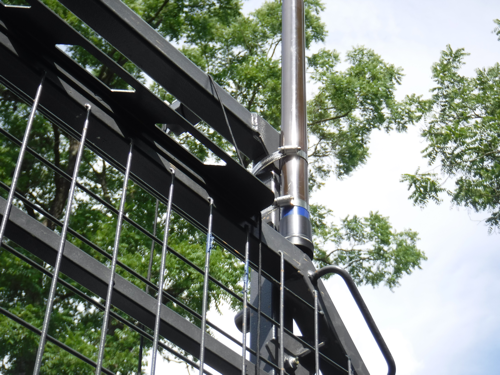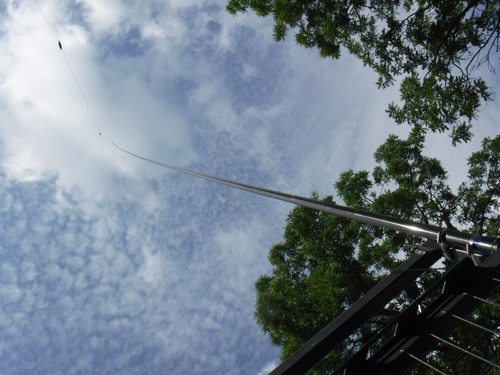 I did get some really good contacts. The end-fed is always great. Fantastic performance on 40-20-10 with no tuner. That's why I always keep it in the bag. I did send a Winlink email successfully and that was a first from the field for me. 5 watts. End-fed. 40m. Success!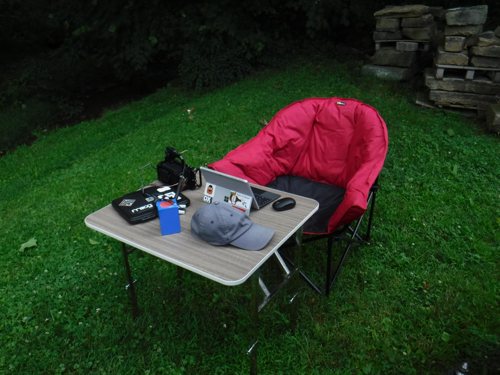 With the mast experiment complete, I put up the Chameleon whip with extension. This is still my portable Go-To. It's compact enough, performs across multiple bands, and takes up very little space which is critical in a POTA activation.
But this time, I wanted to try out my Hardrock-50 in the field. I hooked it up to my new battery box and got going. Made a lot of FT8 contacts and sent off another Winlink test message. It was very successful.
Now, the HR50 runs a little warm. I tried to arrange a portable fan such that it would blow on the heatsink. It didn't blow up, so I can call that a success. I think the HR50 shines in all modes, but digital is always going to be a challenge.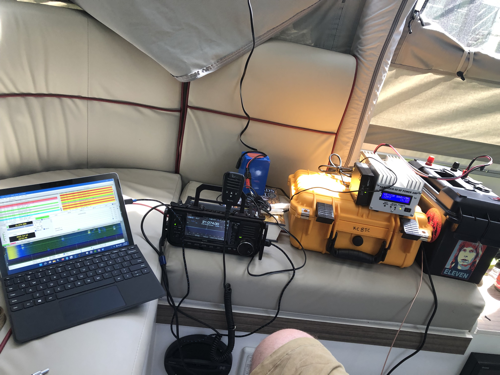 So to review, I tried two different antennas, incorporated an amplifier, mounted a mast, and sent multiple Winlink messages. I have a feeling that I'm going to have my system honed nicely for future trips to the field.
As an aside, I've got a couple of solar panels for charging the batteries in the camper. It's an all-weather setup with charge controller and 140 watts output. It was really successful. The batteries in the camper were kept topped off the entire time. We were in a very clear place and had very clear skies, so I see it as a best case scenario. The results were wonderful and I will be interested to see how things go in less ideal settings.