My family decided that we would take our camper on its first big vacation trip and that our destination would be the Upper Peninsula of Michigan. My last trip up that way was many, many years ago, but I remembered it as being beautiful and quiet. It's still beautiful and still very quiet.
Our plan was to stay at two Michigan State Parks and one National Forest campsite. That changed a little bit at the end of the trip so that we could get out of the mosquitoes and cut down the final day of driving from 9 hours to something closer to 5. That meant adding a park to the list and took me up to three State Parks.
The setup was the same at each park. I used the Chameleon whip with the extention and the hybrid micro. I ran the Surface Go 2 and did digital modes on a number of different bands. I did activate all four parks but I didn't get any of them twice, which was a shame. That said, this wasn't a radio trip. We had a lot going on and it was worth it to sneak in radio time when people were doing other things.
So how did it break down?
Straits State Park – K-1543
I didn't get any pics of my setup, but I was working inside of the camper. So here's the camper from the outside.
I snagged 13 contacts.
W5KJW EM12 20M
KN4DS EM82 20M
AC9HP EM69 40M
W1XI FN31 40M
VA3MJR FN03 40M
N8OFM EN90 40M
W8TAM EN91 40M
KD2RUY FN12 40M
W0DDD EN41 40M
VE3IGG FN04 40M
VA3YVE FN03 40M
KC3HGP FN21 40M
AA5HH EM21 20M
Tahquamenon Falls State Park – K-1544
My operating position here was again inside of the camper. But this time, I did take a quick picture of the setup.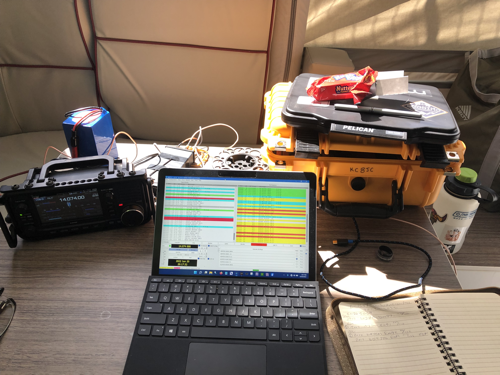 It's a simple setup, quite compact, but there definitely isn't room around the table for anyone else. This time, I got 10 contacts and that was it. I was not being picked up very well and had a number of incomplete QSOs. That's a way of life when running QRP.
N3JOC EN91 40M
WA4CAS EM92 20M
KD4YDC EM84 20M
K4CAE EM94 20M
N2YCH FN31 20M
N0DPR EM29 20M
WY0R DM77 20M
WU0O EM48 20M
KG7TFI CN86 20M
KM4IYW EM66 20M
Hiawatha National Forest – K-4487
We were in the Au Train campground within the forest. The forest is pretty massive. It's also the home of a lot of mosquitoes and biting flies. The beauty of the place was in no way sullied by the carniverous insects.
The only damper of the week was that this was Wednesday and I really, really wanted to do my Winlink Wednesday check-in. It just didn't work out. I couldn't hit a gateway that would stick with me or come back to me. So there was no check-in from me and thus broke my streak. It highlights a need for me to dig in deeper on how I do my Winlink work from the field. Had I been in an emergency, I don't think that it would have gone well because I simply haven't played with it enough. So that makes it to the operational goals section of my little field notebook.
One of the benefits of camping in a national forest is having plenty of space. With no one around our campsite, I spread out on our picnic table and made quite the mess of it.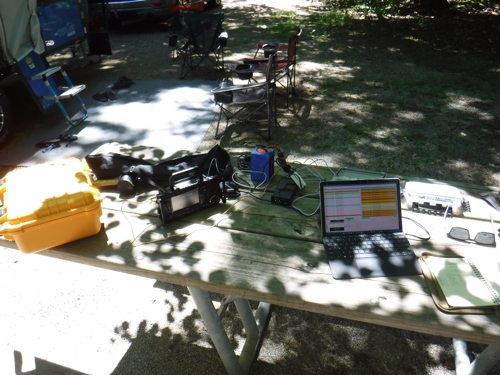 I got 11 contacts here.
KC3TFW EN90 20M
N0DPR EM29 20M
KA1BUC FN10 20M
K2WO EL99 20M
W9RNR EM58 20M
K5ATP EM54 10M
N3UPS EL98 20M
AE0DC EM49 20M
KB9WZH EM69 20M
NA2NY FN33 20M
N4IFD EL95 20M
Otsego Lake State Park – K-1531
Of the campsites we hit on our trip, this one was probably my least favorite. It was backed up to a rather busy road. That said, we had no neighbors and the facilities were clean. There was a nice view of the lake from our spot. Complaining would feel like picking nits here. It was the roadside motel we needed to cut the final drive home and it got us out of deep mosquito country.
The setup was, again, on a picnic table outside of the camper. I got the antenna off to the left in this picture. The breeze was great and, being closer to the rest of the world, I got 19 contacts in relatively short order. 40M was good to me!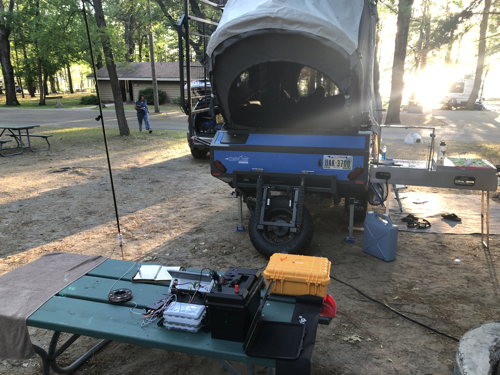 CU3HY HM68 20M
K7IOC CN00 20M
WU8H EN66 40M
VA3MJR FN03 40M
N8RKC EM89 40M
K8YTO EN82 40M
AK0SK EM29 40M
K8ETA EN90 40M
KC8SWY EN72 40M
VA3API FN02 40M
KO4DCO EM66 40M
NA2NY FN33 40M
AD4K FM08 40M
NC4GK FM05 40M
KD8JIP EN66 40M
KE8UFO EM89 40M
KR4GW EM63 40M
K3VAT FM09 40M
K3MRK FN10 40M
And that's that. It was a wonderful trip for many reasons and radio was really only a few hours of the entire trip. I'm excited that I got on the air and that things were smooth. I learned a lot about places where I can improve my skills on the air and had a great time doing it.