This year I have several Stupid Arbitrary Goals that center on radio. One of them is a number of portable operations and the other is activating parks. I decided on these SAGs later than I might and thus January was out. So this weekend, The Big Plan was to get outdoors and activate a park.
In this neck of the woods, we have a lot of snow on the ground. It's crunchy and nasty and the state parks don't do a lot to mitigate that because they're parks and not shopping centers. I had a feeling that sitting out in 17F was going to be a bummer, so working out of the Jeep sounded like a good plan. I have taken ham radio into consideration with my vehicle and this would be a good chance to experiment with that.
On the rear of the Jeep, I have a really cool antenna mount that attaches to the spare tire mount. I use it with my mobile rig all year round. To prepare for using the Jeep for HF in this weather, I had already run another cable through the tailgate so I could swap them at the mounting point and not disrupt the cabling to the mobile radio. That kind of thing would add a lot of drag and pushing another cable was easy.
I've messed around with my MP1 antenna and the Jeep mount in the past. I have a number of extensions that make for quite a tall antenna. The main issue there being changing bands and adjusting the coil. I have to climb onto the bumper to mess with it. As I'm a taller guy, I can't expect a lot of help when I'm not alone. For this trip, I was alone and it was cold. Adjusting the coil did suck. But I've marked it up pretty well, so any adjustments move quickly.
Sitting inside the Jeep, I had my Surface Go 2, my IC-705, and a battery. There was also my clipboard, notebook, pencil, and assorted sundries.
Note: I am embarrassed to say that I forgot a water bottle! No water. No coffee. No snacks. I wasn't even in a big hurry to leave. Complete failure on the comfort front.
What I noticed was that the conditions inside the Jeep were cramped. Yeah, I'm a big guy and it's a small vehicle, but it was mostly due to the arrangement of things. The radio was on the dashboard, the tablet was in a mount I keep to hold it, and everything else was on the passenger's seat. Changing things up was not easy and everything felt precariously balanced. When I went from digital modes to phone, for example, I had to rearrange things and it seemed to decrease my general satisfaction. Feeling disorganized isn't fun for me.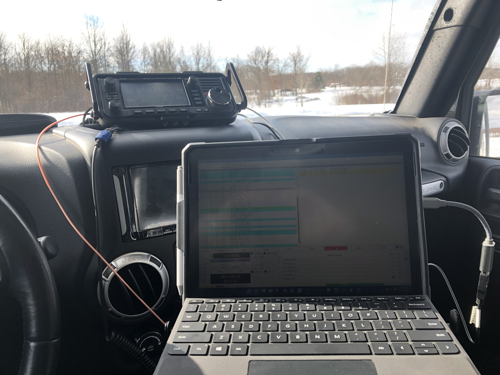 Another important note: Climbing up on the bumper to adjust the coil? Even with my resonant antenna, I always bring a tuner and a wire antenna. My mAT-705 (version 1) did the job when I moved from FT8 to phone and the SWR wasn't ideal. I feel like I maligned that tuner because of some significant design issues around everything but operation. Those issues still exist and bug me, but the performance of the tuner itself is unimpeachable. It really does tune quickly and it's a really nice size. I can't complain about that. It's a great tuner! And yes, it WAS easier to hit the tuner than to get out and tweak the coil even with my antenna analyzer in my bag.
On to how I did. I got no phone contacts. 20m was pretty full, but no one came back. 40m was dead where I was sitting. On FT8, I was being heard all over the place, but only 2 contacts were made. If it weren't for pskreporter.info I would say that something was really wrong. Instead, I think it might just be one of those things where no one was coming back to me or the people out to make contacts weren't hitting me. Sometimes, it just doesn't work out.
So I sat in the cold, not making contacts. As I shifted from digital to phone and back to digital, it gave me a little time to think. I thought about how the setup wasn't working in the Jeep. I thought about how this was the most likely mode for me to do serious POTA activations across the state (another SAG). As various ideas came to mind, the natural urge to build a Go-Box popped up..and was resisted.
As a portable operator it's important to think about how we engage with the hobby. My portable operations will either be from the Jeep (or start off at the Jeep) or in some kind of backpacking or bike packing situation. When working from a backpack, I really don't want to take more than my IC-705, mAT-705, an end-fed dipole, something to get it into a tree, and my LightSaver Max. And the LightSaver Max is really for trips when I'm going to be out for a while (3 days+).
Jeep operations on the other hand…
There's not really any consideration for weight or volume when I'm going out in the Jeep alone (or even car camping). It might have been nice to have the Hardrock-50 with me to up my output a bit. So why not add the Hardrock-50 and my ammo can battery pack to the mix? And better than that, why not toss it all into a milk crate style container?
Seriously. Am I the only one fascinated by the endless utility of the milk crate? I get the ones that come from whatever store I can find them in, but what I really want is one of the old ones from when I was a kid that has "Thou Shalt Not Steal" embossed on the sides and is probably made from plastics that have long since been proven to cause every flavor of health problem. I refuse to buy them in any color other than orange, but I can't get that sweet styling with the verse on it. Someday…
The crate with the ammo can and amp in it can also organize some other things. It can act as a mount for my radio and the grid of the crate makes for nice cable management when combined with the little twisty things I have a pile of in my office. All of it can hang off of the crate and sit in the passenger seat or even the trunk area if I wanted to sit outside.
This isn't exactly the stuff of revelations, but at the same time, organizing things so that I can maximize my time in the field is a solid investment.
What does it look like? This:
This is the crate packed and ready to go.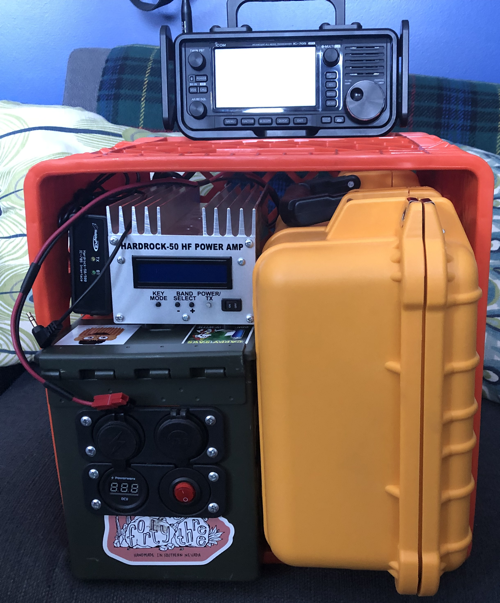 The yellow case is by eylar and holds the 705, tuner, battery, and sundries. It also fits PERFECTLY alongside the battery can to keep things from sliding around in transit.
While my time in the park wasn't loaded with contacts and didn't result in an activation, I still feel it was a success. There's a better way to organize my gear and I will be ready to toss it in the Jeep and head out next weeked.