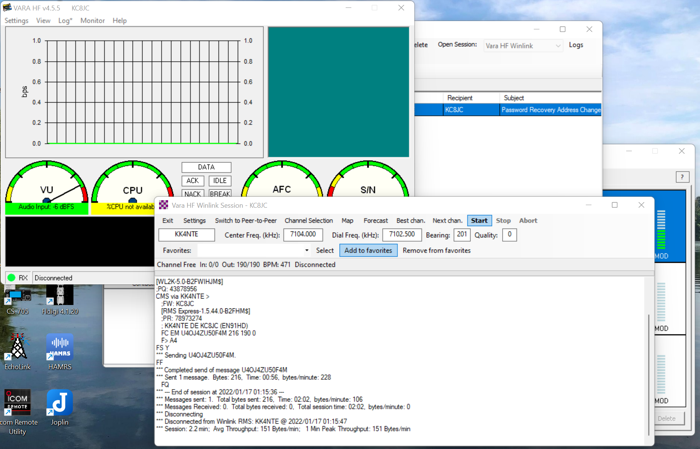 This weekend, I took some time to look at my setup for Winlink. This has been on my Radio List for a while now and I'm not sure what finally kicked me in the behind to fire it up, but something tripped the threshold for action. I have two setups that I run. My base station is an IC-7100 running to either my Mac or my Windows 11 laptop. The laptop isn't much to look at, but it does the job. The other setup I have is for field work. That's my IC-705 and my Microsoft Surface Go 2. This puts me in the position of having to get two configurations up and running and make it so that I don't have to think about it when I switch between them.
As with all things, the setup for the IC-7100 went smoothly. It's a well supported rig that has been around for quite a while. It also helps that I'm simply running the USB cable from the rig to the laptop and there's nothing fancy or tricky going on. It took all of about 15 minutes to get VARA HF configured (which is wildly simple!) and Winlink off and running. Now, I've read a few tutorials on Winlink, but I didn't take a lot of notes. I mostly treated it like any other email application from 1998 (it looks so much like Netscape mail or Outlook Express that it's scary) and selected VARA HF Winlink as the session type. The rest? It honestly took care of itself.
I sent an email to myself successfully over RF to a gateway in Michigan. Not too bad!
It was at this point that I noticed that VARA HF was cranky with me. I had a full license, but I changed my callsign since then. This has happened elsewhere, so I sent an email to the developer and had a new key for my new call in about 10 minutes. It's just crazy the support I got from Jose EA5HVK.
After such quick success with my base station I figured I'd just knock out the portable rig and have lunch. WRONG!
This is where I need to take a deep breath. The IC-705 has been out for a while now. There is still very little support for the rig by default. I think it's still in alpha in Hamlib. However, the CIV address can simply be changed to that of the IC-7300 (94h) and it all just works (so far). I pick nits with this stuff because it's the little bits of friction that make me get up and walk around the house a bit. I'd been avoiding changing the address of the IC-705 because there are other packages I use that actually address that rig. That said, I can now operate JS8Call and a few other packages on my portable station without any fuss. This really isn't a big deal, but I hate workarounds like this for the same reason I don't tell lies: I have a really bad memory. I'm going to forget why something doesn't work and it's going to be the CIV address on the IC-705 that gets me. I just know it.
I was having a bit of frustration, but I remembered that Julian OH8STN wrote up something on this topic on his site.
That post had everything I needed to get the station operational because, well, he's got the same radio and the same tablet.
There was still some frustration. I recently upgraded to Windows 11. I'm not sure what wasn't happy, but VARA HF didn't seem to want to play nice. Honestly? I've never seen the Windows Task Manager go unresponsive like that so many times. Because I fancy myself a thinking man, I went and checked and sure enough there was a new version of VARA HF. After that install, everything worked without complaints.
With the software working it was just a question of finding a gateway. It was a busy night on 40 meters and I finally found a quiet spot where a gateway was supposedly listening. I was able to fire off an email via KK4NTE in Georgia. Success!
I'm excited about this new setup. I'm going to participate in Winlink Wednesday so I can keep myself fresh on this. I will likely alternate weeks doing a portable check-in on one week and using my home station on the other. That should keep things fresh.
Another mode of communication unlocked.