Saturday mornings have, for the time being, been set up as portable operating times for me. There are several parks in the area – Ohio seems to have an embarrassment of riches in that regard – and getting out into them feels really good. This past Saturday, West Branch State Park was the destination.
The original plan was to use the Jeep as the base of operations for this outing, but upon arrival, it was obvious that no one was there. No one. At all. The parking lot for the picnic pavilions was completely empty. It seems the parks empty a bit in the fall once school starts. It made more sense to get out of the Jeep and grab a nice picnic table by the water.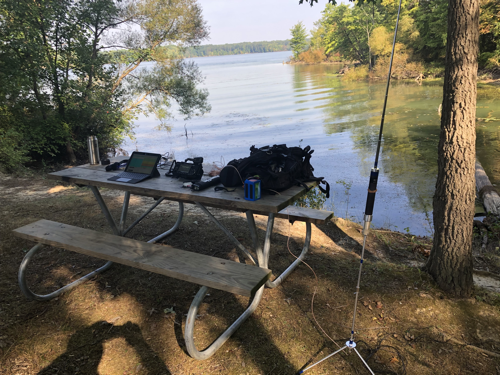 The view was beautiful and, again, it was very quiet. The occasional bass boat would drift by in the distance, but for the most part it was as though there were no people in the park.
I will also hasten to add that the radials as seen in the picture were not left in a pile during operation. I did spread them out so that they could, ya know, perform as intended. I got an interesting comment on the picture when I shared it on Mastodon. More on that in a minute.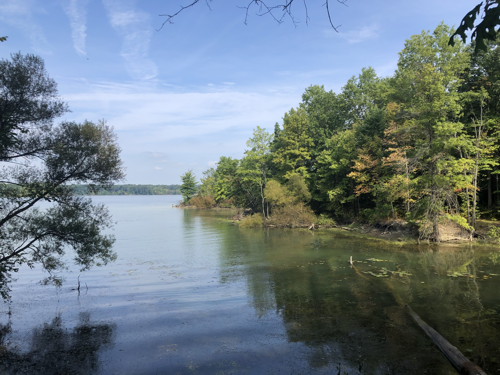 It was somewhere between 9 AM and noon while I was operating. The bands were nice and open. I was hearing from stations as far off as Australia and I was being heard from Alaska to Eastern Europe (per pskreporter.info) but I only got a few calls back. I guess Ohio stations aren't very enticing. That said, I did get a few contacts on the log and did some good listening.
All of the gear worked exactly as expected. It was quick to setup and quick to tear down. I was also glad to have the Lightsaver Max with me as it brought me up to 10 watts and that got me out a bit further as observed again on pskreporter.info. I meant to get on some voice modes, but didn't because I was happier sipping coffee and staring at the water as I played around with FT8.
The Superantenna continues to be my antenna of choice. Easy to deploy and effective. What more could I ask?
I said that I got some feedback on my pile o' radials from Mastodon. And by that I mean mastodon.radio. What is that? It's a federated social media platform. Well, that's what Mastodon is. Imagine twitter if it didn't suck. On mastodon.radio, it's all ham radio operators and makers sharing their (mis)adventures and the fun time had on the air. Or trying to get on the air. Or talking about gear that might get us on the air. It also has a really neat mascot and I got a couple of stickers from the instance admin. They're cool!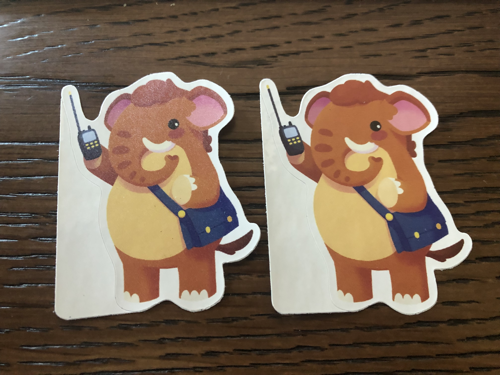 On another topic, I tried some OLIVIA with the local radio club as well. I didn't do very well on 20m from my front yard. Propagation is a tricky thing sometimes. I will try it again and I'm going to listen around for some RTTY in the coming weeks, so there will be more digital fun shortly.
In the meantime, there's another Saturday morning expedition planned. Which park will be a just in time decision.