I love bags. I really do. I have different shapes and sizes for a number of applications. I skew toward Kelty for backpacks for camping because they seem to fit me well. I have a Maxpedition sling that I like for grab and go applications. I also have some no-name bags that I take kayaking or when I just need something slightly larger than a pouch but smaller than a sling for something like my phone, first aid kit, flashlight, and knife. I've struggled to find a good way to carry my HT in the field. It's easy enough to clip it on when it's on, but for transit, I'd like it to have some kind of minimal protection from bouncing against other things or being dropped by a kid.
After looking at what I could do with my IC-705, I stumbled on lens bags for cameras. I picked up a four pack that has four very different sizes. One of them was small enough for me to stuff my Zumspot in for transfer to the field for JOTA. It felt good to have just a bit of insurance there. I have another, larger lens bag that does hold the IC-705. That keeps the screen safe at least and allows me to toss it into the backpack with the Super Antenna without sweating too much. As a bonus, one of them was the perfect size to hold my TH-D74 with it's hand mic.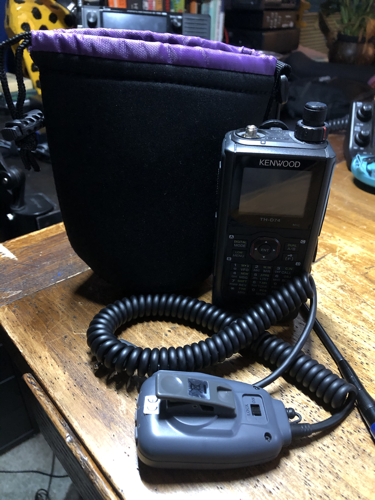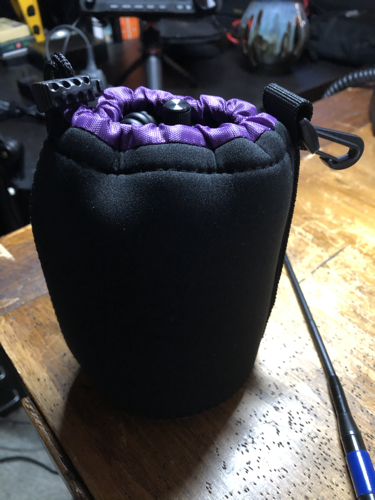 These bags aren't perfect. They aren't going to act like a hard case. They aren't waterproof. They aren't crushproof – or even crush-resistant. But again, they keep things from scratching or taking too much abuse as they bump together in the pack. So for a controlled event like JOTA where all I needed to do was get from home to camp to the site for the station, it was great. If I had to really pack the Jeep with other people's stuff or dogs I don't think I'd be as happy with the solution.
I'm still really looking at how to take my IC-705 into the field. I've seen camera systems that would be great, but I feel like that's taking things over the top. I do have a soft spot for packs that let me hang things off of them and have many compartments, so who can tell? I'll come back to this as I kick up my field operations.